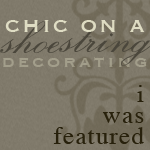 I'm pretty honored to be in a league with some of the other AWESOME stuff that's up there:
In LURVE with this chalkboard wall. Woah. Structured *check* Bold *check* Versatile *double check*. Dear owners of House of
Chic and Penoche,
I will be arriving on Thursday.
So, Kate - THANK YOU! And congrats on reaching 1,000+ followers! If you haven't checked out Kate's blog,
Chic on a Shoestring Decorating
, go now! (But don't forget to come back! ) :D
Have a great rest of the weekend! I, for one, need to go mix up some more glaze if only I could peel my lazy butt off the couch...
xo,